Wilier Triestina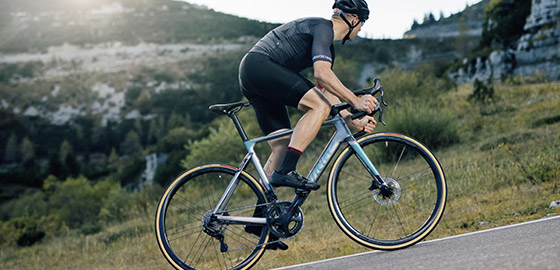 Wilier Triestina road bikes and frames
Wilier - a traditional company founded in 1906 by Pietro Dal Molin from Bassano. Tradition and modernity, high-tech and passion till today. With the Gastaldello family, who took over in 1969, a distinctive story of success got born which continues to the present and inspires cycling enthusiasts all over the world.

Wilier Triestina sets standards as innovative racing bikes, whether with the Cento, Zero SL, Zero SLR or the Filante SLR, in both leisure and professional sports. Ramato and Cromato are the latest color variants that inspires every cyclist to dream. Wilier Triestina stands for innovation and design, which also makes a clear statement in the gravel section with their Wilier Triestina Jenna.
Well-known artists such as Dustin Klein have created a special edition with the spectacular paintwork Jungle Limited and Tundra Limited. An innovative painting process that is completely new in the cycling industry and gives hope for further spectacular designs from Wilier Triestina.

JEDI Sports does not build just any Wilier bike. JEDI Sports builds your personal dream of Wilier road bike or gravel. Attention to detail, as well as professional, individual advice is what sets us apart as a Wilier Triestina premium shop and dealer.
Show 1 to 20 (of in total 20 products)