Pinarello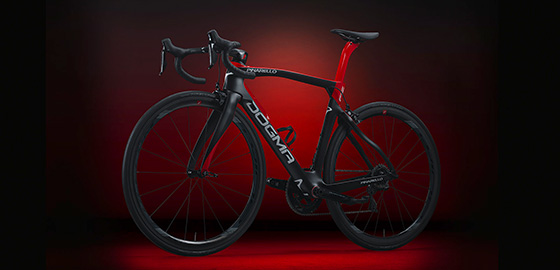 1953 in Treviso Cicli Pinarello Is Born to Create the Fastest Road Race Bike in the World.
No other bicycle brand than Pinarello has as many victories at the Girod'Italia, the Vuelta in Spain or the Tour de France. Giovanni Pinarello, father of Fausto Pinarello had a dream: 100 % handmade in Italy, extraordinary beautiful, technical highest innovation to become an unbeatable giant in the cycling industry. The Pinarello Dogma F is a new generation, an absolutely benchmark in the high-end road bike market: faster than any other road bike, handmade painting in Italy - same like the Dogma F12, in 11 different sizes for individual fine tuning onto its riders, no matter how ambitious the riders are. Pinarello is the reference point for all high-end premium road bikes in the market: faster, combined with extreme agility, stiffness and comfort, easy to handle and save. The design of each Pinarello frameset is painting as state of the art, outstanding in the cycling industry. Team Ineos presents like no other team how creative, fast and continuously new designs get born in Treviso.
The best and most expensive carbon fiber in the world each Pinarello top framesets gets produced from, in combination with the hand paintings are the reasons for their higher prices. Of course, Pinarello offers more than road racing bikes. The Bolide TT as time trail frameset or the triathlon version makes the heart beat faster. Innovation, design, passion, the best carbon fiber, performance and aerodynamic aspects in the wind tunnel in collaboration with Jaguar is technology at its highest level. Beside Pinarello road race bikes and the highline Dogma F12 and its cutting-edge new range of F12 Disk, K10, K10 Disk and the F12 X-Light, you will find another top-level area with the Pinarello Gravel called Grevil, the Pinarello Cross with the Crossista and the Pinarello e-bike Nytro.

JEDI Sports does not build you any bike. JEDI Sports builds your very own dream of Pinarello bike. Attention to detail, as well as professional, individual advice is what sets us apart as a Pinarello shop and dealer.
Show 1 to 20 (of in total 22 products)