Cervélo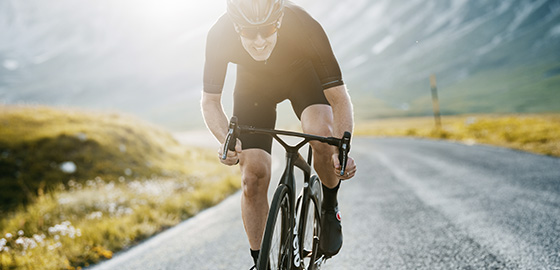 Cervélo and the Passion of Gerard Vroomen, Founder of Cervélo in 1995.
Already in 1996, the more than just talented Cervélo engineer and his friend Andy White created the first carbonfibre frameset less than 1 kilo. The journey of Cervélo started with a triathlon bike and until today the Cervélo Triathlon P series is unbeaten. Ironman winners ride Cervélo. Shortly later the R-Series with Cervélo R3 und R5 got created, nowadays R5 only. The lightest, stiffest and fastest bike for climbing hills and the same time the fastest down mountain, where riders need a most stable and responsive bike. Cervélo R5 are made for high-performance riders, who want aerodynamics, aggressive position and the stiffest bike on the market. Cervélo's focus has always been to be the leader in building the lightest, fastest and most aerodynamic bikes and Cervélo S3, Cervélo S5 are the masters for aerodynamics in the Cervélo road race bike passion.
Cervélo S Disc and Cervélo S5 - made for the best sprinters in the world and fast means you have to feel confident and comfortable with your Cervélo. The geometry of the Cervélo S Disc and Cervélo S5 is pure pedal efficiency, stable handling, it soaks up road vibrations for smoother ride, while stiffness and wind resistance is kept to a minimum. The result is each watt is going forward - made for winners. The Cervélo Caledonia was created for the best of everything with performance, comfort and speed winner. A unique endurance bike.

In 2019 a new lifestyle emerges, a new type of driver who loves freedom, goes on a discovery tour, explores his limits and the Aspero was born. A gravel machine, fast, uncompromising, a hit in the terrain and on the asphalt.

At JEDI Sports your dream of a Custom Made Cervélo becomes true, no matter if you prefer the fastest wheelset, best powermeter, lightest groupset or any other bike component. JEDI Sports creates not any Cervélo, it will be your pure personal dream of a Cervéloroad race bike. Attention to detail, as well as professional, individual advice is what sets us apart as a Cervélo shop and dealer.
Show 61 to 80 (of in total 95 products)