BMC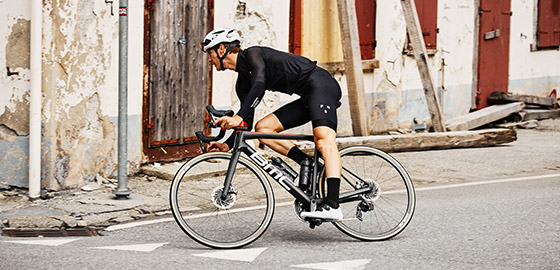 Highest Swiss engineering for premium performance road bikes and gravel bikes from BMC
The success of the Swiss brand began in 1994. BMC developed over the years a dynamic approach to bicycle design. With the help of Andy Rihs they realized the vision of a comfortable frame, which nevertheless ensures maximum stiffness. In 2002, the legendary BMC Teammachine was introduced and revolutionized road cycling.

With other innovative road bikes such as the BMC Roadmachine or the BMC Timemachine, performance and functionality in the road sector is guaranteed and is an eye-catcher through different color variants.
In the Gravel area BMC also sets new standards with the URS. The super-lightweight yet powerful frame sets no limits - whether for gravel racing or adventurous off-road explorations, the BMC URS is ideal for every experience. BMC Switzerland stands for innovation with always new technologies and designs and gives cyclists around the world a whole new feeling of freedom and certainty of victory.

JEDI Sports does not build just any BMC bike. JEDI Sports builds your personal dream of BMC road bike or gravel. Attention to detail, as well as professional, individual advice is what sets us apart as a BMC premium shop and dealer.
Show 1 to 15 (of in total 15 products)